Current Price List
These are the prices for the products that I am currently making. If you would like something different, like a different size or fabric, just let me know, and I will get you a price.
I get most of my fabric at a local fabric store, if you let me know what you like, I can try to find it.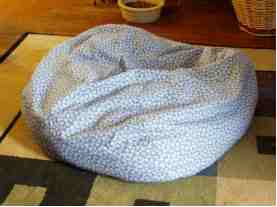 Poofy Bed with blue and white cotton cover
The Poofy Bed is the ultimate in cat or small dog luxury. It is actually a ball, stuffed just enough to make it soft and cuddly.It is washable
Cotton print or solid - 25.00
Optional washable fleece or flannel cover - 10.00
Fleece Throws
Fleece throws are approx. 20 inches square, and reversable. They are machine washable.
Single solid color - 7.00
Two solid colors, one on each side - 8.00
Print fabric -10.00
Custom sizes available - please contact me.
Flat Beds
Flat beds are perfect for on the floor, or in a crate or travel carrier. They are made from a variety of materials including cotton, flannel, fleece, or faux fur. Each includes a removable foam mattress pad inside.
20 inches square - 10.00
30 inches square -15.00
Custom sizes available, please contact me!
Toys
Toys are made with fleece, flannel, or faux fur. Catnip is added to the small, medium, and fish.
Small - .50
Medium - 1.00
Large - 5.00
Jumbo - 10.00
Fish - 4.00
Flat bed with a purple flannel cover